A few weeks ago I watched one of the worst led meetings ever. Instead of getting to the heart of the matter, leaders allowed an outsider to derail and delay the real issues. As tempers flared, the president relinquished control to attendees. Instead of clarifying issues and communicating an action plan, the two hours we spent were disorganized and only complicated matters. Virtually everyone left the room more aggravated and with more questions than they started. Ever been caught up in meeting madness?
As I discussed a while ago in this short video clip for Starwood's Meetings in a Minute, high performing decision makers know what they want before they go to a meeting or attempt to reach agreements.
Have you ever sat in a meeting that made no sense? If there was an agenda, it wasn't followed. The loudest voices sidetracked the topic. You waited 45 minutes listening to matters that didn't involve you or your team for your 3 minute report. You spent hours preparing your presentation but the critical decision makers left before you spoke.
Meetings can be draining. In fact, 80% of the people in our High Performance Survey say they could be at least 25% more productive if meetings were controlled.
Keep your meetings on course by following these simple guidelines:
Be on time, stay on time and stop on time. Don't allow interruptions like phone calls and texting to others trump the valuable time of the people in the room.

Stop meeting to meet. Don't waste time in a meeting when a phone conversation or brief update would be sufficient. Cancel meetings that don't make sense.Try decreasing your meeting time by half. And those "meetings before the meeting" are only good if they allow you to maximize effectiveness later with multiple attendees.

Have an agenda and follow it. Leave a place at the end of the meeting for "new business." Remind people that new ideas will be discussed at that time.

Follow Robert's Rules of Order or create your own meeting guidelines. Define a clear process that all understand and agree to follow. Just as a part of a new board member's training should include the basics of Robert's Rules, part of a new team member's on boarding should include an orientation of your team's meeting rules.

Use meetings to report information. Unless designated as a brainstorming or strategic session, actual meeting time should be used to report findings, make suggestions or answer questions. A board member's or leader's time should be spent giving direction, deciding a course of action, discussing areas of concern and granting approval to proceed. Allow individuals, task forces and committees to do the heavy lifting and research so that meetings can stay high level.

Meeting attendees should have a role or not attend. Don't waste others' time. The right people who have the right information and can execute on decisions need to be in the room. People need to know the good business reasons they are invited in advance. Also, if you suspect you aren't needed, ask what role you'll be playing.

Participants should be prepared. Participants should know the purpose of the gathering, the outcomes expected and come equipped with the data they need to ask intelligent questions and make smart decisions.

Have a plan of action. Want to streamline the time you spend while driving results? Then close the loop on open issues and clarify who owns the next steps. To get a handle on those open items, here's a graphic from my book The Manager's High Performance Handbook.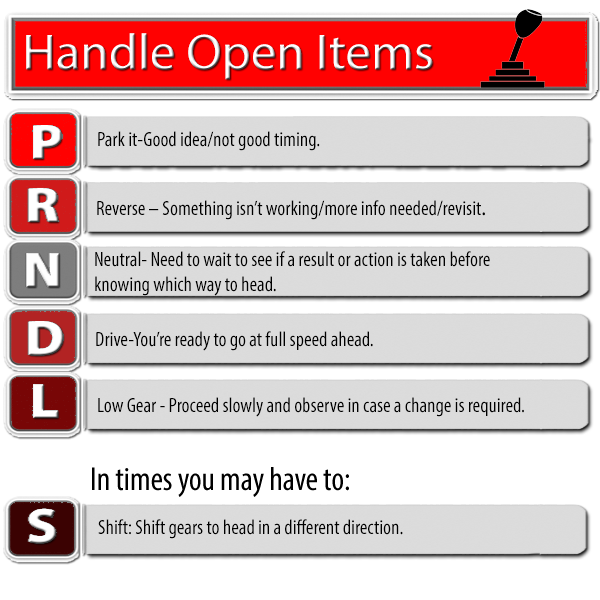 Are you ready and set to take control of that meeting madness?! Great. Then, buckle up, shift into gear and go after meeting results that drive high performance.
Journey On
About Linda: A recognized authority on negotiations, workplace issues and strategic communication, Linda Swindling, JD, CSP is an author, media expert, a "recovering" employment attorney, and a professional speaker. Contact us to book Linda to speak at your event.